Home Page> OurDoodles>



The 2023 Breeding Season is Underway!
Click Here For Litter Listings.


Wickersham Farm has Guardian Home opportunities available for some of our up and coming breeding potentials! If you have someone that is home a good part of the day, a fenced yard and are looking for a top-of-the-line companion, contact us for more details. These opportunities go very fast, so if we don't have anything by the time you contact us, you can be placed on our Guardian Home List*.

*Please note, Guardian Homes must be located within approximately 30 miles of East Marlborough Twp, PA.




OUR HISTORY


In a town tucked under the folds of Southern Chester County, there is history as rich as the fertile soil. Gideon Wickersham built himself a home that would amaze and intrigue people hundreds of years after he added the finishing touches. In this home, hidden in the little township of East Marlborough, the unique woodwork and craftsmanship is just a facade for the history that lay inside its walls.

Gideon Wickersham, the great-grandson of Thomas Wickersham built the Gideon Wickersham farmstead in 1818. Gideon utilized locally available schist and serpentine to create an exceptionally beautiful visual effect on the outside. It is obvious by the fine woodwork on the interior and the exterior that Gideon was a fine craftsman.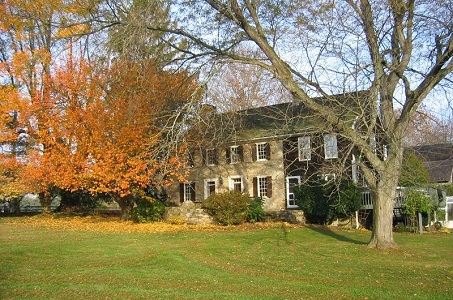 In 1701, Thomas Wickersham settled in what is now East Marlborough. In 1700, he came to Southern Chester County from Sussex, England, with his second wife and four children from his first marriage. He claimed 500 acres that he had purchased from Humphrey Killingbeck, a relative from his first marriage. William Penn had granted 1,000 acres to Killingbeck in 1682.

The Wickerskams were Quakers. They brought with them certificates of membership from Horsham, England, and were probably the founders of Old Kennett Meeting.

Gideon had begun to purchase land for himself in the area of his ancestor in 1799. Written in that deed, Gideon was referred to as a "turner." Gideon was very close to his uncle, Enoch. Enoch Wickersham has been referred to in deeds as a "joyner," new English spelling being "joiner," and later as a "yeoman". It is assumed that Gideon learned his woodworking skills from his uncle. Living until the age of 97, Enoch boarded his later years at Gideon's house.

When Gideon died in 1848, the Gideon Wickersham farmstead was willed to two of his sons, Evan and Gideon Jr. as tenants-in-common. Gideon Jr. acquired his brothers share in 1854, and maintained ownership of the property until his death in 1899.

The house, with double doors, was a popular style exclusively in southeastern Pennsylvania. This double door idea maximized every inch of living space. One door typically led to a formal parlor, while the other led to a functional work area or kitchen. The double door plan worked well both in urban and rural settings. The original house is measured 30' by 30' and faces south. It is built of rough cut local stone, serpentine and schist. These stones, used in equal proportion produce a very dramatic visual effect.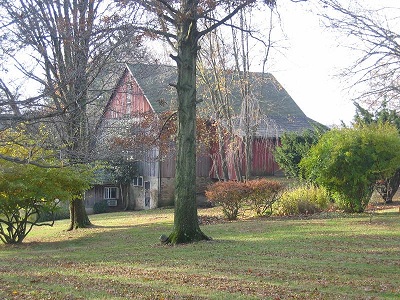 The house went through many changes and many owners before it reached its final restoration. Robert and Joan Galloway bought the house in the late 1950's. As the couple stripped away wallpaper and paint and pulled off a dilapidated Victorian wraparound porch, they uncovered the house, an architectural jewel. The house was soon added to the National Register of Historic Places. It was the 262nd property in Chester County to be included on the register since it was began in 1966.

The style of the house, as previously mentioned, was exclusive to Southern Chester County. It lasted, however, for only first 25 years in the 19th century. There was an addition built on the house. It involved a bathroom, a kitchen, and a greenhouse, and a bedroom upstairs. The present dining room is the original kitchen.

As one can see, something as simple as a house can hold rich history, whether it be about the people living in it or its architecture. The Gideon Wickersham Farmstead is the beautiful place that we call "home".



---